Driving Instructor Collier Row Lovely Feedback
Big thanks to my Driving Instructor Collier Row Kathy from Wests Driving School she was Fantastic. Follow Us On Pinterest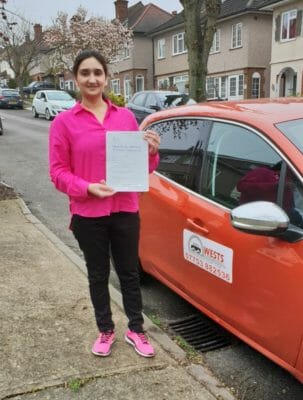 I passed my practical test yesterday. I took driving lessons from Kathy Windett and I can't thank her enough for being there for me and helping me in building my confidence on the road.
In short, if really you want to pass your driving test, then take lessons from Kathy. Listen to her, do as she says and there you go. While I was driving during my test I could literally hear her sweet voice saying "mirror, signal".  Subscribe To You Tube Page
I cannot thank her enough for putting up with all of my nonsense during my lessons. God Bless her.
I would recommend Wests to anyone thinking of learning to drive who are looking for Driving Instructor Collier Row. Follow Us on Instagram
We have lots of useful resources to help existing and new students to enhance their driving experience with Wests. Click Here
If you would like to learn to drive and pass the driving test. Please call today to book that all important first lesson. This could be you do not put it off any longer. Follow Us On Linkedin
Tel:          07753 882536