About Driving Instructors Romford
Wests School of Motoring was established in 2009. We are an independent driving school in Romford who prides itself on offering friendly, patient, reliable and professional one-to-one instruction.
Learning to drive is a milestone in anyone's life, our comprehensive range of driving services, include leaner driver training, pass plus, motorway tuition, intensive courses, refresher training, confidence booster and block booking discounts.
Driving lessons in Romford and surrounding areas in Havering/Essex are full hourly lessons, affordable and adapted to suit your individual needs, using a driver's record to track your progress.
Our Driver and Vehicle Standards Agency (DVSA) Approved Driving Instructors are dedicated to get you moving as soon as possible. We adhere to a strict code of conduct, giving you the best possible training and guidance.
We aim to maintain our fantastic reputation by using Wests School of Motoring training methods, latest training materials and unique student study pack helping you pass your practical test within the minimum number of lessons while providing the best quality tuition to gain safe driving for life.
As well as improving your driving skills, we offer Pass Plus advanced driving where you will be given a good grounding with various driving conditions and in the long term save money on car insurance premiums.
At Wests School of Motoring our driving instructors in Romford welcome and cater for pupils of any experience or ability which is taught at a pace that best suits you.
The company uses top of the range, easy to drive air-conditioned Hyundai i20 vehicles, with power steering and dual controls. With fully qualified DVSA approved instructors, the company provides professional driving instruction to local people within the surrounding Havering area.
Our 1st Time Pass Rate
Since we started monitoring our pupil's test success, our 1st time pass rate has hit an astonishing 81%. This is amazing when you consider, the industry average is just 47%
Value for money
When you consider that up to 81% of our pupils pass their test first time, Wests offers you superb value for money.
The cost of failing a driving test is around £200 (£62 for the test, 2 hours for test day & another 2 hour lesson in between) so, although other driving schools may have cheaper hourly rates……wouldn't you rather pass first time and save yourself money in the long-run?
Why we're different from other driving schools?
Many people don't actually know that there are two types of driving instructors, Potential Driving Instructor (P.D.Is) and Approved Driving Instructors (A.D.Is). Potential Driving Instructors are still training to become fully qualified, meaning you end up on average taking more lessons than you need with them. Approved Driving Instructors on the other hand, are those which have completed all tests set by the DSA and are fully qualified to teach.
All our driving instructors Romford and surrounding areas, Wests Driving Instructors are Fully Qualified Approved Driving Instructors, providing quality tuition. Other local and national driving schools such as BSM and Red tend to use P.D.I's as part of their teams.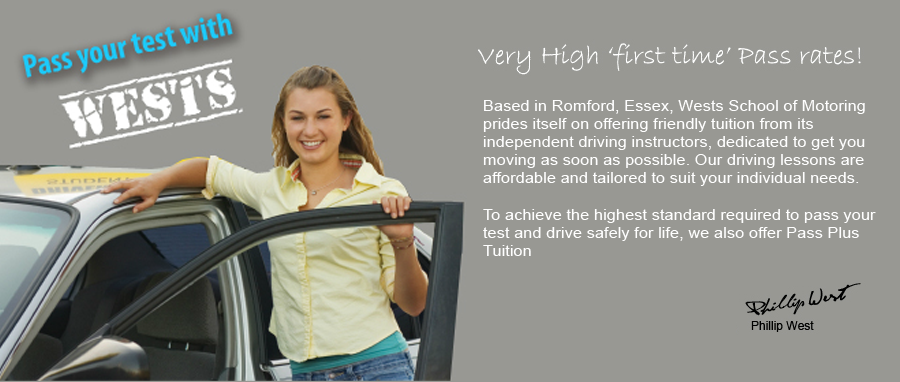 Meet The Business Owner
Wests School Of Motoring is owned and managed by Phillip West a fully qualified green badge ADI, who has been employed within the industry for a number of years.
"I am qualified to deliver Pass Plus this will enable us, once you have passed your test to advance your driving skills. I really love my job as a driving instructor and enjoy seeing my pupils faces when they pass their driving test.
Having previously trained at a large market leading Driving School, Phillip has the necessary skills and experience to manage and drive forward the driving school. Phil is fully qualified to oversee your personal growth.
Wests School Of Motoring uses the Hyundai i20 Active 1.2L 5 door petrol car which has air conditioning for your comfort and is fitted with He-Man dual controls. The i20 is an excellent, easy-to-drive car for learner drivers with excellent all round visibility which inspires confidence in the pupils who have given great feedback. It's a pleasure to teach in and the peace of mind of the safety features reassures both pupil and instructor. New drivers can be put at ease by the number of safety features fitted to the i20.
It has the maximum five-star score by European New Car Assessment Programme, setting a new standard in the super-mini segment. The i20 five-door model scored exceptionally well in all four categories assessed – adult occupancy, child protection, pedestrian protection and safety assist. ESP is standard along with active head-restraints, front seatbelt pre-tensioners, six airbags and seatbelt reminders. ESP helps to minimise the risk of skidding by applying brakes to individual wheels to control the car in slippery conditions.
The i20 has been precisely crafted to meet the challenges of a busy lifestyle. With attention given to the finest details and quality of materials, it's built to exceed your expectations. Not forgetting an industry-leading 5 Year Unlimited Mileage Warranty to guarantee total peace of mind.
What the Hyundai i20 Active has to offer
15″ Alloy Wheels
6 Speakers
Bluetooth® connectivity with voice recognition
Electric windows – front and rear
Body coloured door handles and mirrors
Electric heated door mirrors
Folding door mirrors
Front map reading light and sunglasses holder
Front fog lights
Leather gear knob
Leather steering wheel
Stereo RDS Radio/CD Player with MP3