Passed Test Taking Driving Lessons Hornchurch
Charlotte had Driving Lessons Hornchurch, secured another outstanding first time pass. Follow us on Twitter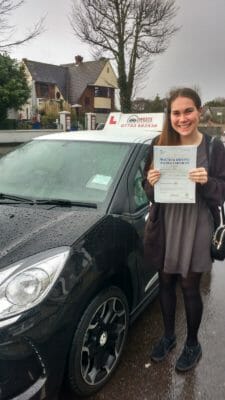 Breaking news flash you passed your Driving Test. Another outstanding pass, Wests delivering more Customer Success. Follow Us On Pinterest
Big congratulations to Charlotte Robinson from Hornchurch who deservedly passed the Practical Driving Test at Hornchurch Driving Test Centre earlier this afternoon with Kevin the Examiner, after taking driving lessons Hornchurch. Subscribe To You Tube Page
You held your nerves together right to the bitter end. What a well deserved, well co-ordinated, fabulous first time pass with only '4' minor driving faults. Amazing result to secure your full driving licence. The examiner even commented on how well you drove during your test. Follow Us on Instagram
Another very confident performance, happily showing their pass certificate. It goes to show all that hard work, commitment and determination paid off. You have worked incredibly hard to achieve this, you now have the World at your feet enjoy your new found independence. Follow Us On Linkedin
Huge well done from all at Wests School Of Motoring and their Driving Instructor Hornchurch (Spencer). I could not be happier, what a great achievement. You have been absolutely brilliant and a pleasure to teach, helping you to achieve your goal.
It has been been really great to get to know you during our time we have spent together, perfecting your driving skills, road awareness and confidence. Be very proud with your accomplishment and be confident as your a good driver. Enjoy your new found freedom, wish you the very best of luck in the future and look forward to seeing you on the open roads. More importantly no more walking.
Keep perfecting what you have learnt, enjoy your independence and freedom, remember be happy, "stay safe and drive safely for life". Many happy years of safe motoring and thank you for choosing Wests School of Motoring, Driving School Hornchurch. Where we teach our students to learn to drive with confidence. Another happy smiling satisfied customer.
We have lots of useful resources to help existing and new students to enhance their driving experience with Wests. Click Here
If you would like to learn to drive and pass the driving test. Please call today to book that all important first lesson. This could be you, do not put it off any longer.
☎📞📲🖥
Contact:   Phil West
Tel:           07753 882536