Outstanding Review From Amelia, Taking Driving Lessons Harold Wood
A massive big thank you to my Driving Instructor Spencer for helping me pass my driving test at the very first attempt, he is the best teacher I could have asked for.
Spencer is very patient, easy to get along with and he organises the lessons to your specific needs.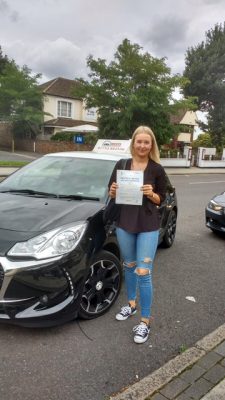 He makes you feel safe and secure in the car, teaches you to become the best driver you can. Builds your confidence and knowledge of the roads to an exceptional standard, so that when you pass your test you feel confident and ready to drive on your own.
Throughout the lessons he gave me constant, constructive feedback. This was very important to let me know where improvement was needed. Equally, when I did something right. This was achieved by taking the time to discuss where and how I needed improvement, by remembering, revisiting issues when they arose. This enabled me to break and avoid any future bad habits, making me a better and safer driver. When it came to test time, we had covered all potential routes so thoroughly that nothing came as a surprise. Clearly, this was one less thing to worry about on the day of the test.
I have enjoyed his lessons so much, he will be greatly missed as a part of my weekly routine. If you are planning on driving, Wests School of Motoring are the best of the best. I feel honoured and so pleased that I decided to take my driving lessons with them. I would highly recommend them to anyone.
Thank you so much Wests School of Motoring I will be forever grateful for all your help.
Please call today to book that all important first lesson this could be you.
☎️📞📲💻
Tel:          07753 882536