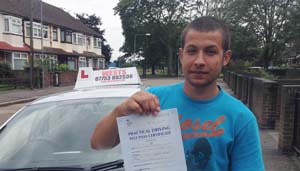 Just passed my test today and I couldn't be happier with the whole experience.
Learning with Phil is intense, he knows how well you should be driving, and if you're not up to how well you can perform, he will let you know. He doesn't let you slack. Learning with Mr West isn't just worth the time and money, it's enjoyable. You'll have a laugh, and you know he wants you to pass. You won't just learn to pass with Phil, you learn to drive properly. He has a unique teaching style which you'll quickly learn to appreciate. Then when he knows you're up to test level, he'll let you know, he doesn't mess around and before you know it you'll have that sweet sweet certificate in your hand.
Thanks again Phil, it's been a pleasure mate!
[themify_icon icon="fa-star" icon_color="#f22222″ ][themify_icon icon="fa-star" icon_color="#f22222″ ][themify_icon icon="fa-star" icon_color="#f22222″ ][themify_icon icon="fa-star" icon_color="#f22222″ ][themify_icon icon="fa-star" icon_color="#f22222″ ]